Rotary Screen Printing Machine
BENEFITS

SALIENT FEATURES

COST SAVING
TIME SAVING
LABOUR SAVING
SPACE SAVING
WATER SAVING
COLOUR SAVING
FAST PAYBACK
ENVIRONMENT FRIENDLY

Each screen is independently driven
Printing paste is fed by special pumps individually to the different screens
print paste level in the rotary screen is automatically and constantly controlled
PRINTING ZONE
| | |
| --- | --- |
| | Infeed options |
Features
Batch unwinding
High entry for crease less fabric feeding
Cloth tensioning device
Electromagnetic cloth guider
Band plate with electric heater
Dust collector (optional)
Knitted, lycra& other delicate fabrics  uses standard spreader unit (optional)



PVA-GLUING UNIT (OPTIONAL)
PVA glue application unit through rubber roller and segment device.
 OR

Adhesive applying application unit and adhesive stripping unit for fine layer adjustment rubber squeegee.



Gluing unit with stainless steel tray and segment type brush to adjust fabric width
Rotary SCREEN PRINTING MACHINE TECHNICAL DATA
| | | |
| --- | --- | --- |
| 1 | Standard Printing width | 1280, 1620, 1850, & 2250 |
| 2 | Printing repeat | 64, 82, 91.4, 101.8 cms. |
| 3 | Printing speed | 8 to 80 mts./min. |
| 4 | Nos. Of colours | 8,10,12,16,20,24 |
| 5 | Suitability of cloth | Cotton, Viscose, Polyester, Knitted, Lycra, etc. |
| 6 | Drive of the M/C | A.C. variable-inverter drive & All servo drive |
| 7 | Dryer type | Oil / Gas / Steam heated |
Drive Option :
A.C. Variable-inverter drive
All servo individual head  servo motor with drive for most accurate & speedy design change over
SQUEEGEE SYSTEM
A squeegee is a tool with a blade that removes or controls colours across surfaces.
A tool possessing a wooden or metal handle to which is attached a thin, flexible rubber or plastic blade. A squeegee is used in screen printing to force ink through the printing screen and onto the substrate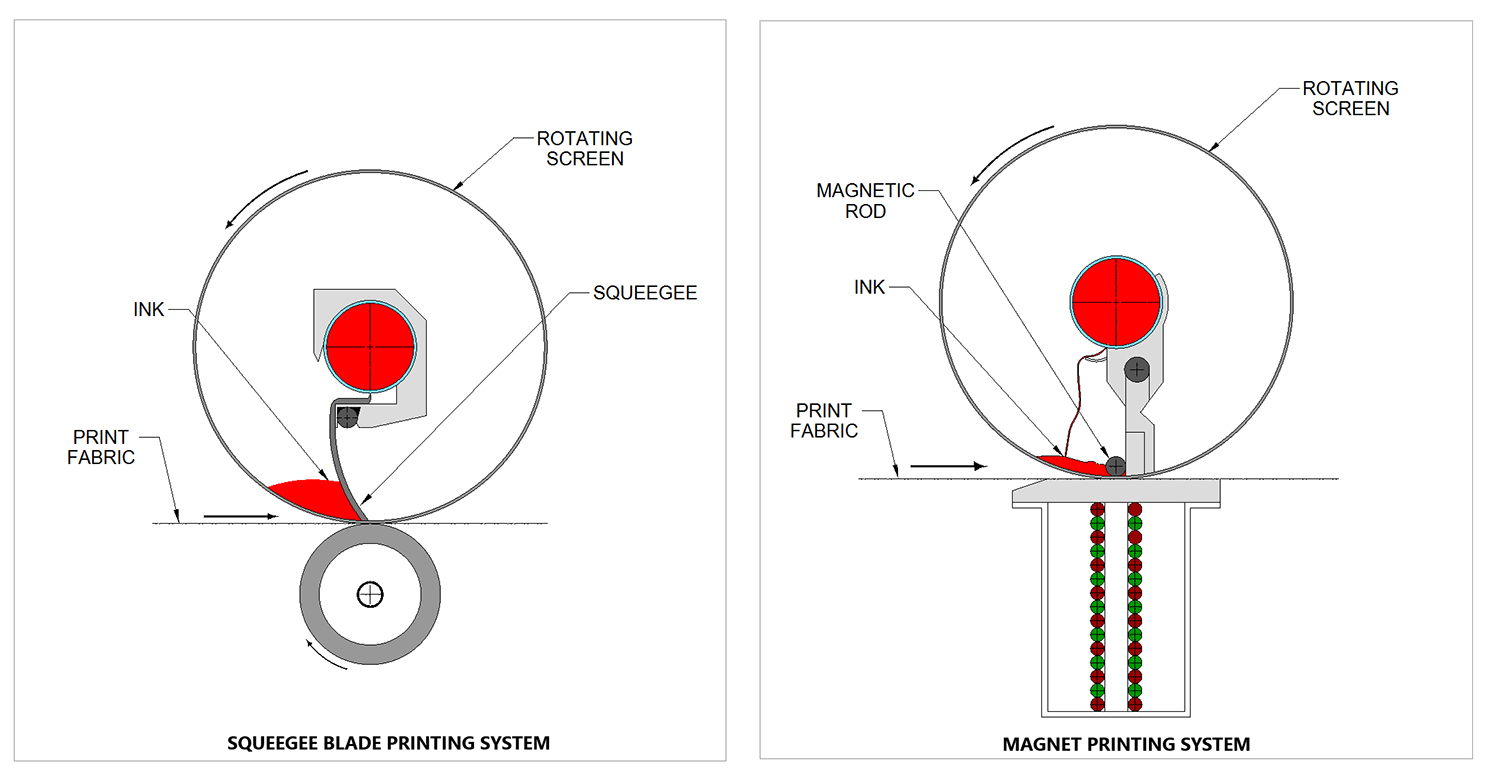 Stainless steel body diaphragm pump for colour  feeding system.


Blanket washing unit
Sponge type blanket washing unit with spray pipe and recirculation system to reduce  water consumption.
HIGH EFFICIENCY DRYER
| | |
| --- | --- |
| A dryer through which the printed cloth passes. A dryer is needed when printing with heat set inks which dry and set only with the application of heat | |
OIL / STEAM HEATED DRYER
WITH HIGH EFFICIENCY DOUBLE RADIATORS FOR EACH SECTION OF DRYER

4 RADIATORS PER CHAMBER EANABLES VERY HIGH DRYING CAPACITY & FASTER PRODUCTION.
GAS HEATING
WITH CLOSE CIRCUIT DESIGN OF DRYER TO ENABLE VERY FAST GAIN OF DRYING TEMPERATURE WHICH ENSURE HIGH EFFICIENCY.

UNIQUE FEATURES
HIGH EFFICIENCY DRYER
THE INGENIOUS NOZZLE SYSTEM
ADJUSTABLE INVERTER-CONTROLLED AIR FLOW ENSURE UNIFORM TEMPERATURE DISTRIBUTION
EASILY REMOVABLE LINT FILTERS AND NOZZLE FOR CLEANING
SUPERIOR INSULATION PANELS FOR ENERGY SAVING
MODULAR DESIGN OF CHAMBER
TYPICAL SCHEMATIC DIAGRAM FOR SCREENOTEX ENGINEERS RSPM